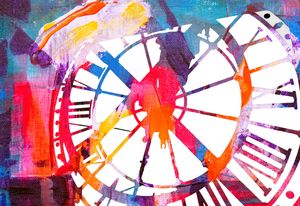 Who is Keystone Postcard?
Victor Solis
Lead Vocals, Rhythm Guitar
Originally from Bethlehem, Pennsylvania Vic is a 90's kid who discovered southern rock. He is the heart and soul of Keystone Postcard. He was voted Best Singer-Songwriter and Best All-Around Musician in Savannah 2021 by Connect Savannah Magazine. Some have described his style as, "If James Taylor were a rocker." Vic never fails to provide an engaging show which surprises and delights audience members with his wide variety of musical selections. 
Becky Solis
Lead Vocals, Ukulele, Auxiliary Percussion
Haling from Northeast Pennsylvania, Becky is no stranger to the stage. With graduate level training in theatre, Becky is an entertainer to the core. Her vocal range matches her vast personal taste in music; performing everything from Disney and Megan Trainor, to Fleetwood Mac and Janis Joplin. Perhaps this is why she was voted Best Local Vocalist in 2021 by Connect Savannah Magazine. 
Becky captivates an audience, whether she is adding flare with a shaker (and maybe kazoo) and singing backup or taking lead with powerful vocals. It doesn't matter if there are 2 or 200 people listening, Becky believes that music heals and everyone deserves the very best performance every time.
Matt Dagget
Lead Guitar, Backup Vocals
This Detroit rock city- by way of Cali metalhead is the coolest member of the band. His shredding guitar solos and sweet licks harken the likes of Slash, Stevie Ray Vaughan, and Kirk Hammett.
Oozing rock and roll, Matt rips on electric or acoustic guitar! Sometimes it seems he can make any instrument sing. What's more is that HE sings TOO! His third part harmony and chemistry with Vic and Becky creates a dynamic show "that really cooks." No matter if he is playing an oldie but a goodie, or something from the future, "your kids are gonna love it." It's worth asking, is there anything this guy can't play?      
...The answer is, we haven't found anything yet. 
Winners of 5 Best of Savannah Awards 2021 in Connect Savannah Magazine!